Sarah Bolasevich
India & China Instructor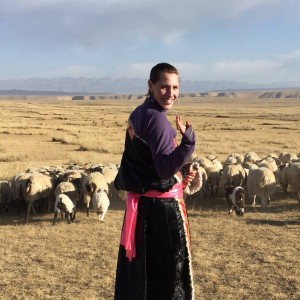 B.A. Religious Studies and Multidisciplinary Studies, Stonehill College
M.T.S. South Asian Religious Traditions, Harvard Divinity School
Sarah travels the world with humility and curiosity; she is a dedicated student of her ever-changing surroundings who is driven by the wisdom she finds in different cultures. Moving across worlds, she seeks to fuse compassionate knowledge with practical and analytical skills relevant to today's global situations. As an undergraduate student, Sarah examined the relationship between religious mythologies and human tendencies to make meaning of the world. As she examined a spectrum of psychological and neurological correlates to religious experiences, Sarah developed a deep appreciation for the traditions and practices of Tibetan Buddhism. Her interests led her to spend the spring of 2010 abroad in Nepal, where she began her studies of Tibetan language and analyzed how the realms of religion and culture interacted with fast-paced developments.
Sarah returned to Nepal after the completion of her BA to continue studying Tibetan and Nepali language and later served as a Teacher's Assistant for SIT Nepal's Development and Social Change program. After sixteen months immersed in Nepal's diverse multicultural environment, she returned to the US to attend graduate school at Harvard Divinity. At Harvard, Sarah's studies expanded to include the borderlands of Tibet and China and she took up the study Mandarin. She received summer grants to study Tibetan and Chinese language as well as research grants to complete projects stretching from western China to the TAR. She researched the changing lives of nomads across eastern Tibet, while she rode horses alongside her host family and honed her comprehension of the Amdo dialect. She later journeyed to Lhasa to research the expanding tourism market and map recent developments around Mt. Kailash. Further west of Kailash, she documented Buddhist cave paintings from the Guge Kingdom, and used her data as part of a larger project concerning Buddhist representations along the Silk Road.
Sarah loves learning about different ways of explaining human existence and different paradigms of connecting to the earth. She is passionate about education and creating educational systems that are both culturally specific and also globally relevant and innovative. She is a Wilderness First Responder and continually finds herself in remote locations. Wherever she is in the world, she loves to learn to cook the local dishes, and usually finds herself drafted onto a local sports team. She enjoys reading, hiking, swimming, learning languages, and an occasional triathlon. Sarah believes that kindness is something we should cultivate each day, alongside our skills to think critically and engage the world; she thinks that traveling and experiential education allow us to acquire a broader appreciation for the many ways of being in the world, and thus help us gain a more genuine understanding of others. Sarah hopes to support her students to discover their own voices and become part of the global community as informed, compassionate people.
---