Sandy Salazar Pinto
Bolivia Instructor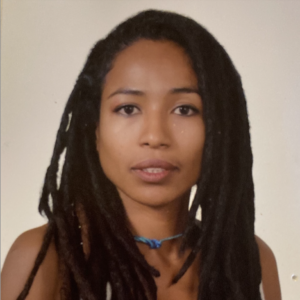 Masters in Afro-Latin American and Caribbean Studies, Clacso
Sandy is an Afro-Bolivian woman, Afro-feminist, and mother of a one year old child. She is also a human rights activist and a researcher on the history and situation of the African diaspora in the Americas. She studied Social Communication with a specialization in communication for development at the Latin American Open University (UPAL) in the city of Cochabamba, Bolivia, and she has a master's degree in Afro-Latin American and Caribbean studies at the Latin American Council of Social Sciences (Clacso) with a specialization in studies on black feminisms.
In 2011, she had been selected to work with the United Nations High Commissioner for Human Rights (UNHCHR) in La Paz, to promote and defend the human rights of the Afro descendant community of Bolivia, to strengthen the Afro-descendant organizations in the country and to monitor human rights violations. In 2014, she coordinated activities in the "Women's Platform for Citizenship and Equity" for the promotion and defense of women's rights carrying out advocacy activities and training in information technologies with the Institute for Integral Female Training (IFFI) in Cochabamba. In 2015, Sandy worked with the Bolivian NGO "Educar es Fiesta" conducting theoretical and practical workshops on the environment and the use of medicinal plants, creating natural cosmetology products with groups of women in suburban areas with the aim of achieving economic independence and their empowerment.
Beyond her studies and professional accomplishments, Sandy is an activist in the Afro descendant community of Cochabamba where she contributes organizing activities to strengthen the cultural identity of the community through the diffusion and transmission of cultural practices and the integral development of all the community members.
Sandy has worked with Dragons since 2017 as an instructor on the Andes & Amazon South America  program.