George McGinniss
China Course Director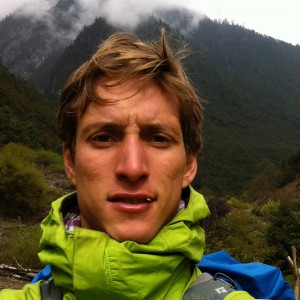 B.A., Chinese, Mathematics, Spanish, Georgetown University
When he was two years old, George would take every single item from the refrigerator shelves within grasp, inspect them carefully and place them on the floor.  After satisfying his curious inklings, he would then replace each in its rightful place at home in the cool environment. Coincidentally, his mother nicknamed him "Curious George," though this title has no relation whatsoever to the monkey who wears a yellow hat. George, in fact, does not even own a yellow hat.
George grew older, but never ceased to maintain his refrigerator philosophy as he traveled the world. He learned Chinese, Spanish and Mathematics across the disparate communities and landscapes of Washington, DC, Harbin, China, Valparaíso, Chile and countless others in between.  Throughout, George maintained his unwavering inquisitive zeal and utilized it to fuel his worldly quests.
George grew older still, and began to teach high school students how to properly ace the SAT writing section, and taught everyone from infants to geriatrics how to navigate the ocean waves on surfboards, paddleboards and any other wave riding vehicle, occasionally having to rescue a person or two during August hurricane surf as a certified ocean lifeguard and Wilderness First Responder.
One day, while teaching surfing to a small boy from New York City who had never seen the ocean, George saw the light burn in his eyes when he stood up for the first time. The young boy refused to leave his board or the ocean for hours, and George realized that he had somehow passed on the fire of curiosity to another. This was an important moment.
It is now George's mission to inspire curiosity and wonder in light of new experience (which has not yet left him) in each and every student he instructs on Dragons courses. George surfs or skis whenever and wherever he can. He is also an avid reader (Joyce's Ulysses and Cervantes' Don Quixote are his favorites) and enjoys writing short stories.
He carries a poem his mother gave him in his backpack wherever he goes, a few lines read:
"You, sent out beyond your recall, go to the limits of your longing. Flare up like flame and make big shadows I can move in. Let everything happen to you: beauty and terror. Just keep going. No feeling is final."