Eugenius (Egen) Raga
INDONESIA INSTRUCTOR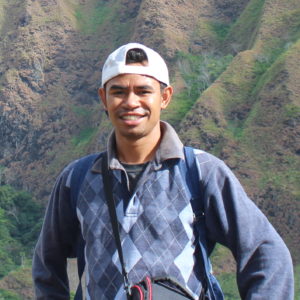 BA, major in Philosophy, Institute of Philosophy of Maumere, Flores, Indonesia
Eugenius (Egen) Raga was born and grew up in Langa village in Flores, Indonesia. He grew up in a community where daily life was seeped very strong tradition. This tradition has greatly influenced his language, way of living and interacting with the people and nature. Currently Egen lives in the community of Langa where he and his colleagues started Langa Trekking Community. Langa Trekking facilitates leadership training for youth and generates new sources of income through the services they offer around his hometown. He enjoys working alongside youth, empowering them to become aware of their life, and to celebrate it.
Egen has been working with Dragons since 2015 as local coordinator in Langa. He and his community of Langa has been welcoming and becoming Dragons host families for two years. He loves sharing many things with Dragons: his countryside life style, his smoky kitchen, picking coffee from June to September, drinking coffee all the time, farming and raising livestock at his backyards.
He greatly respects people and the community. In his work as a tour guide, interpreter and homestay coordinator he has met so many travellers from all over the world and welcomed them into his community. He believes that there are no strangers; there are only new people that we have never met before. Everybody is family to everybody because we were born from the same womb, the womb of Mother Nature.